Featured Item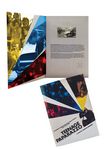 Video In Print Media Player For Custom P...
The perfect fusion of video, print, and sound. Incorporate high quality video content into any print collateral. Multiple screen sizes available. Up to 15 minutes of video content. Rechargeable batter...

Welcome!
For over a decade, we have provided our customers with outstanding service and well-informed expertise. Here are a few reasons why our customers return and why you should consider Rewarding Awards:
1. We communicate, listen and understand your needs
We begin each project (no matter the size) by gaining a solid understanding of your requirements. This helps us to create solutions that communicate the right messages and express your unique brand identity.
2. We work in partnership with our customers
Great design solutions usually do not come in a flash. It's a joint process of discovery that takes experience, and good communication and understanding. That is why we have a reputation of getting it right and having you return.
3. We are on time and on budget
We determine the scope of the project, create a budget and timeline, and once they're approved, we stick to them.
4. We do the work
From the first hello to the completion of your project, you will see the same faces. You will find our creative professionals both friendly and knowledgeable. Our main goal is to ensure that your advertising needs are met – both on budget and within your time frame.